Why shall the kids feel left out during the season of Valentine's? After all, it is the time to spread love, and we all are excited to celebrate the occasion with beauty and shimmer. Valentine's Day is just around the corner, and we have decided to make your kids look at the adorable piece of pudding in the neighborhood! Well literally! Here are some of Valentine's day hairstyle Ideas For Kids that we have for the little girls, which you can get done for them to see that gleeful smile on their faces. So what are you waiting for?
1. The hearty pigtail
The beautiful and cute hearty pigtail is an excellent way of bringing a smile to your child's face! They will have this idea of hairstyle you have done for them and flaunt it in front of everyone! Isn't it the best feeling ever! To be appreciated by your little ones.
2. The love braid
We have come up with a love braid adorned with beads and colorful clips! It is a protective style so that none of the strands are left loose. Such a lovely idea suits the theme of the season of Valentine's.
3. The simple heart hairstyle
The simple heart hairstyle is indeed so easy for you to make! The ponytail is flipped, and then the separate elastic bands are used to complete the look with perfection. Here is a great idea that you should try out for sure.
4. The gorgeous chain heart
We have come up with the gorgeous chain of hearts, ideal if your child has long hair! The beautiful and charming hairstyle with colorful beaded clips is a wonderful idea that is as simple as making plaids for them in the morning when they are going to school.
5. The adorable sweetheart bun
We have come up with the adorable cute sweetheart bun, which is such an amazing option indeed! Such an extraordinary idea that you can try out as you explore the season's excitement with your kids.
6. Make a crown for them
The kids will be delighted to have a crown on their heads! You need to pull the hair in front to make the plaid! They are then pulled behind to create the crown, an elegant option for you to try out.
7. The tiny adorable heart for the toddler
We have come up with tiny toddler heart designs which are excellent for you to try out! If they are yet to grow a lot of hair, you can still manage with what little they have as you design the tiny heart at the top of their heart.
8. What a beautiful hipster heart
We have come up with the beautiful hipster heart that is gorgeous and you can get it done for your girl who is planning to head out for a party! The side parted plaids are so creative and graceful.
9. Triple heart pattern
We have tried this gorgeous and graceful triple plaid which is amazing and such a great one for you to indulge in! The beauty of the pattern is fascinating and your child will be quite happy with this hairstyle as she goes out with you.
10. The simple heart
Well, if you are not that great with hair styling, then the simple hearts are at least what you can try out this season! Such a pretty and adorable one that you can indulge in this season! So shall we try?
11. A fat single heart
A fat single heart is a great idea to convey love in the air! This idea of Valentine's hairstyle for the kids is amazing, and they will be delighted to go around with this awesome hairstyle you have done for them. Shall we?
12. Do not forget the bow
We designed this heart plaid for the little girls, but it looked ordinary and customary! Well, something was missing too! And then, we came up with the big pink bow at the end, which worked wonders to create a distinguished look.
13. Beaded protective hairstyle
We have opted for this beaded protective hairstyle so that when your girl is playing around, she does not tangle her hair and get it stuck somewhere in the playground. Such a brilliant idea that you should indulge in for the holiday season!
14. Pretty highlights in pink
We have come up with pretty pink decorative highlights for your kids that are safe for you to try on! A pink heart on their head will grab the attention of everyone as you take them out for a treat during Valentine's Day.
Valentine's Day Hairstyle Ideas For Kids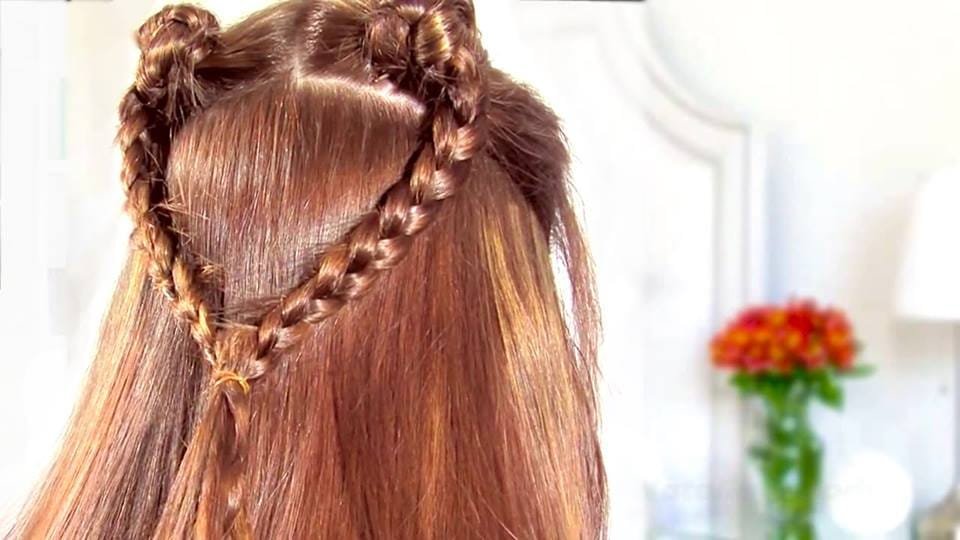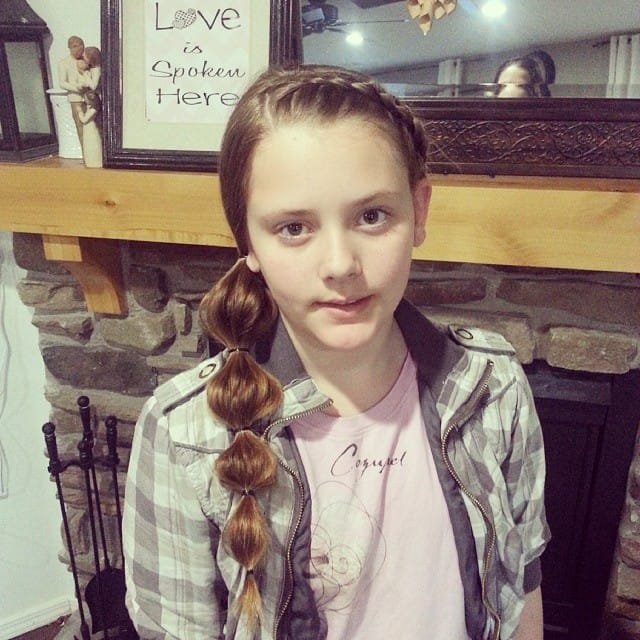 images via www.pinterest.com
Read also: