You are very excited about Valentine's Day as you will finally confess your love to your crush or plan a date with your partner! Whether it is to celebrate a long-lasting bond or to make a new one, getting decked up for the celebration of the occasion is very important, and like you take care of your outfits, you also have to worry about your nails! They add an intricate charm to your overall beauty, and you should never miss out on them! Let's try them out!
1. Bright pink and dripping metallic
This is an excellent choice if you are fond of the color pink! The sweet and bright pink confers a sprightly aura to your presence, and the dripping metallic shade makes it seem like a strawberry dipped in liquid chocolate on each finger.
2. Heart for the nails
We have opted for this beautiful design where we have these gorgeous nails in shades of pink, white and red stripes at the top! A heart is made on one of the fingers to convey the spirit of love in the air. Are you willing to give it a try?
3. A hint of glitter
We have come up with the glittered pink shade, which is admirable and out of the world! The spirals of glitter and shiny pink with a layer of transparency in the middle are commendable, and you should try it out this season!
4. The faded pink shade
We have opted for pink which gradually fades and then blends into a lighter version of the color followed by a translucent hue and transparent at the end. We are quite fond of this elegant look, and it is an absolute must-have for Valentine's Day.
5. Hearts and hearts all over
We have designed hearts on the nails intricately, and this is indeed an excellent choice that you should indulge in! The beauty of the contrasting colors is impressive, and we are in love with this idea that we will recommend you give it a try!
6. What a charming shade of hearts
How can we recommend Valentine's shades and not come up with hearts? This contrast of black and red is exotic and gives you a sensual edge! We will guarantee your partner will surely appreciate this idea you have come up with to impress them.
7. Valentine's blue
Instead of trying out the same customary red, we tried the blue shades to create this nail art pattern, and guess what? It turned out to be a great success! Matching with every outfit, this is a great choice that you must indulge in.
8. Kiss me the pattern
The kiss me the pattern is so adorable and yet so romantic for one to indulge in. The base is given a light pink shade, followed by the lips designed on every nail! It is indeed a bewitching that everyone will admire and praise you for acquiring it. 
9. The Love waves
The wavy red and pink design for the nails is lovely and such a beautiful choice while you prepare for the Valentine's Day celebration. We are great fans of this pattern that is so easy to make and hardly takes time.
10. The glimmering heart
We have tried this fantastic glimmering pink heart design, and you should try it out! Pretty and creative, the intricacy of the patterns will surprise the beholder, and your partner will not be able to resist praising you.
11. I Can't help falling in love with you
And same goes for falling head over heels for our nail paint idea for you. Easy and elegant, the effortless beauty of the light pink and white is impressive, and you should give it a try!
12. The hearts
Here we have another nail art pattern for the holidays with hearts and pink! There are stripes of white and yellow to make them more bright and more attractive. You should try this excellent heart decor idea for your nails this time.
13. The myriad colors of love.
We can't wait for you to explore the myriad shades of nail paint to design your Valentine's Day day nail art! Excellent and easy to make, this showcases your creative side of yours. Indeed it is worth your time and effort!
14. The jar full of hearts
It seems like the mini hearts are filled inside a jar where you dipped all your fingers, and now all the hearts are imprinted on your nails. We find this intricate design such extremely popular and amazing to indulge in, and you should try it out too!
Valentine Nail Art Ideas That You'll Love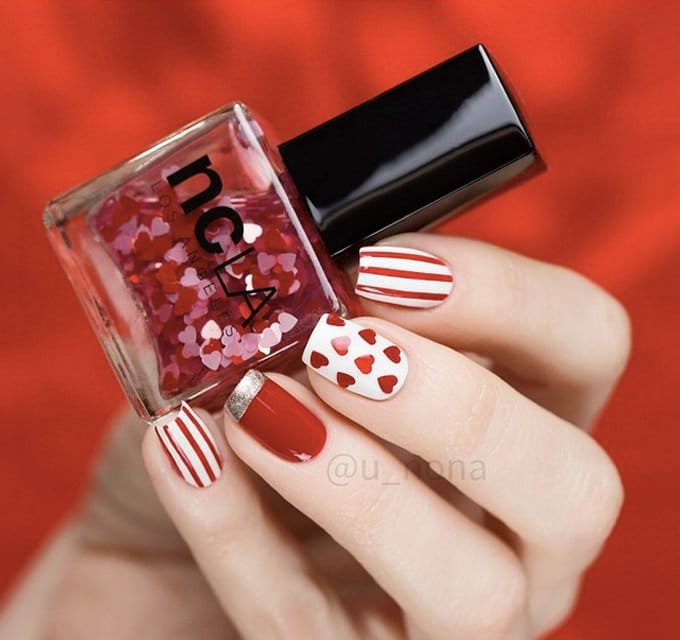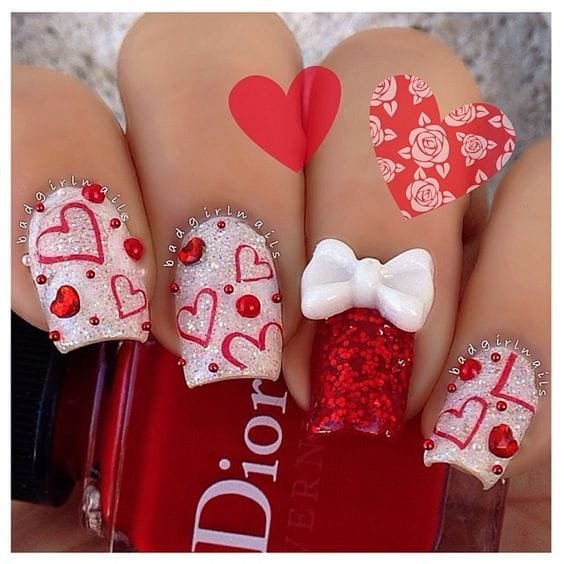 images via www.pinterest.com
Read also: