Everyone wants to take different on this Valentine's day.  This year Valentine's is falling on Friday, so no need to worry about work and office. Just hangout with valentine buddy with some precious and remarkable drinks. Cocktail are perfect drink for Valentine 's Day.
So this is time to celebrate and there is no better way of doing that than with a cocktail. Great drink complements your meal if you show your cocktail mixing skills to your valentine.
Have fun with garnishing your drink that fits the mood of the day. Yet these cocktail ideas and set your mood.
Pair citrus, leeches and grapefruit juices to create a most delightful drink. Absolute gold is perfect cocktail of peach liquor garnishing with edible gold flakes. Raspberry kiss is blend of raspberry, lemonade and vodka with crushed ice. Cotton candy champagne, raspberry pink floats, love potion, vodka tonic,  grapefruit martinis, red wine milkshake, rum sunset,  chocolate covered strawberries Tequila shots ,all day punch,  green apple, Apple tin, pomegranates mimosas, berry milkshake and strawberry crush are great ideas  for a cocktail. Café amore is a fantastic coffee drink for that couples who wants to go with something hot.
So there will be a romance in glass.
Valentine's Day Cocktail Recipes
1. A raspberry moscato cocktail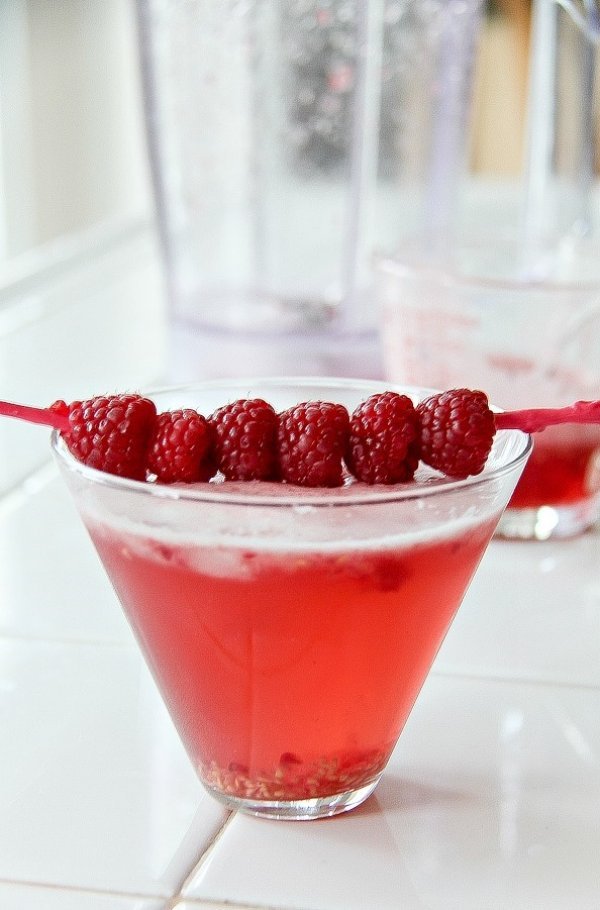 2. Basil strawberry kombucha drink
3. Black berry champagne bellini
4. Blood orange gin & tonic
5. Blushing Bouquet Tom Collins
6. Blushing geisha cocktail
7. Candy punch cocktail with vodka and lemonade
8. Cardamom rose cocktail
9. Chamomile Honey Whiskey Cocktail
10. Champagne cosmo
11. Champagne Granita
12. Champagne sorbet cocktail
13. Cherry chocolate bourbon soda
14. Chocolate covered strawberry cocktail
15. Chocolate Covered Strawberry Martini
16. Cocktail blood orange mule
17. Cointreau Rose Cocktail with Strawberries
18. Cotton Candy Champagne
19. Cran raspberry spritzer
by momdot.com
20. Cupids cocktail
21. Delicious Valentine's day cocktail
22. Floating on cloud 9 cocktail
23. Floral cherry cocktail for Valentine's day
24. Fresh Strawberry Mimosas
25. Frose frozen rose
26. Frostbite cocktail
27. Frozen sweet and salty dog
28. Grapefruit and Rosemary Mocktail
29. Grapefruit vodka cocktail
30. Hibiscus hot toddy
31. Love potion vodka cocktail
32. Mint tulip cocktail
33. Mulled wine
34. Pink coconut frost cocktail
35. Pink lemon lime mocktail
36. Pink mudslide
37. Pink party punch with sherbet
38. Pomegranate gin slush
39. Raspberry martini fizz
40. Raspberry pink champagne floats
41. Raspberry Rhubarb Margaritas
42. Raspberry rose cocktail
43. Red wine milkshake
by delish.com
44. Rose lemon spriter
45. Rose Lemonade Elderflower Sangria
46. Sparking strawberry floats
47. Sparkling cranberry punch
48. Spiced manhattan cocktail
49. Spicy love potion cocktail
50. Strawberry champagne margarita
51. Strawberry Chantilly Cocktails
52. Strawberry coconut pina colada smoothie
53. Strawberry daiquiri
by elletalk.com
54. Strawberry gin sour
55. Strawberry tequila soda
56. Sweet and sparking punch for Valentine's day
57. Tangerine sorbet champagne floats
58. Valentines day Mimosas
59. Valentines drinks lady rose
60. World's Best Cosmopolitan Cocktail
by noblepig.com
61. Yummy Valentine's day cocktail
Have you been wrongly credited or someone submitted your project/image? Kindly reach out to us and expect a response…
Thank you for reading and I'm hoping you have a wonderful week my friends!