Halloweens are incomplete without a spooky pumpkin sitting right there on your center table or in your doorway. Scarily designed pumpkins instantly perk up the ambiance of your house and add a weird and mysterious aura to it. So get ready to decorate your house for this Halloween while we take you through some of the most amazing and spooky pumpkin carving ideas that are trending.
Skull Within A Pumpkin Spooky Pumpkin Carving Idea
Create a large hole in your pumpkin and place your plastic skull inside it. Garnish it with the pumpkin guts and some eerie lighting to make it scary and uncanny.
Anatomy Pumpkin Carvings: Carve out different shapes of internal organs and body parts of humans on your pumpkins to give your house a supernatural and scary feel.
The Celtic Mask: Carve out a skeletal face on the pumpkin and finish it with thin and curved lines and designs to make it scary. Light it from inside to give it a more creepy touch.
The Spooky Forest Carving: Let your imaginations run wild with this spooky pumpkin carving idea. Sketch out fine lines and designs throughout the pumpkin and add some leaves on top of it to give it a more realistic appeal. Ornament it with some eerie lighting and your spooky pumpkin forest is ready.
Decorate your pumpkin with these cool and spooky pumpkin carving ideas to add an eerie and spooky feel to your house this Halloween!
Spooky Pumpkin Carving Ideas To Pep Up Your House
1. Choose the pumpkin for carving.
Pic by puzzleheadseducational source
2. Clever pumpkin carving idea.
Pic by frankwilleke source
3. Creative Owl Carving from Pumpkin.
Pic by foodingtheworld source
4. Happy pumpkin face.
Pic by jgoodedesigns source
5. It is a time of Witch.
Pic by my_little_life_in_squares2018 source
6. Scary skeleton form Pumpkin carving.
Pic by simonpatel76 source
7. Skeleton Carving from Pumpkin.
Pic by murray_akk source
8. Spider and jack-o-lantern pumpkin carving.
Pic by spellingbqueen source
9. Track or treat Pumpkin carving.
Pic by beverly.ca source
10. Zoidberg pumpkin carving idea.
Pic by drkohnhorst source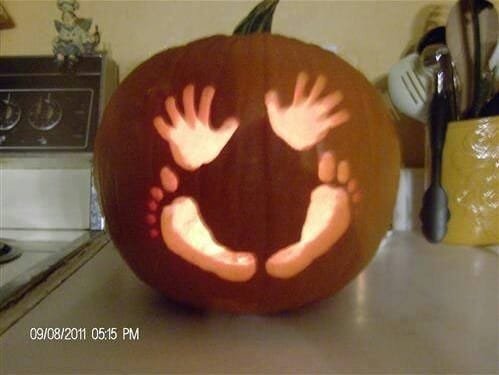 images via www.pinterest.com
Have you been wrongly credited or someone submitted your project/image? Kindly reach out to us and expect a response…
Thank you for reading and I'm hoping you have a wonderful week my friends!