Halloween is approaching and I hope you have already started the preparation for this holiday. This is a creative holiday; you can show your imagination with your costumes, makeup, hairstyle, and decoration. Halloween theme tattoo is the newest idea to add charm to Halloween party.
Most popular Halloween symbols are a black cat, bat, insects, Jack-O-Lantern, creepy faces, ghosts, zombies, etc. Black color is an absorbing color, it absorbs all the energy around and turns it into something unique. If you do not want a permanent tattoo you can also try a temporary tattoo.
So scare the people this Halloween with these creepy tattoo ideas then go for spooky characters. You can choose any of them with suits with your Halloween costumes and Halloween makeup.
Ultimate List of Creepy Tattoo Ideas
1) Absolutely haunted killer tattoo on half sleeve.
Pic by tradesmantattoo source
2) Aggressive 3D shaped extremely scary ideas for tattoos.
Pic by luxuryinkbali source
3) Amazing black and white demon tattoo idea.
Pic by melisinked_ source
4) Astonishingly designed tattoos for the sleeve.
Pic by lucitatastic source
5) Attractive zombie nun tattoo on lower leg.
Pic by babyowls97 source
6) Awesome scream tattoo.
Pic by marietattoos source
7) Awesome sleeve coverage tattoo design for the fierce look.
Pic by zinoviev1984 source
8) Black and grey scary portrait tattoo.
Pic by kustomekulture source
9) Black and grey zombie tattoo with rose and sunflower.
Pic by annagabrielletattoo source
10) Bloody face tattoo with wolf.
Pic by lucky13_studiotatuazu source
11) Conceptual design of tattoo.
Pic by gregmfd84 source
12) Customize horror tattoo on back.
Pic by frankentatt source
13) Demon girl tattoo.
Pic by shaks_tattoo source
14) Dotwork skull tattoo on ankle.
Pic by misfitstattoosclub source
15) Enigmatic tattoo idea for cool look.
Pic by chadiillac source
16) Evil face tattoo on lower leg.
Pic by mikeleonardtattoos source
17) Evil skull tattoo on sleeve.
Pic by martianartstattoo source
18) Exceptional doll looking tattoos for women.
Pic by marky2dix source
19) Extremely haunted tattoo idea for women.
Pic by rickrayne source
20) Eye-catching tattoo design inked in black.
Pic by tommacktattoo source
22) Haunted tattoo design for the vibrant look.
Pic by united_ink source
25) Incredible scary tattoo on thigh.
Pic by h0udiny source
26) Killer clown tattoo on arm.
Pic by lostharbortattoo source
28) Most haunted tattoo design for the vibrant look on thigh.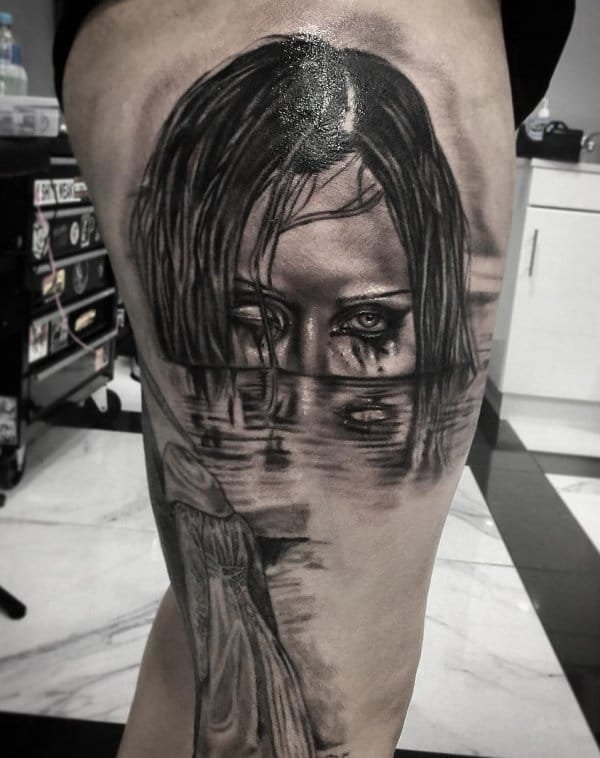 Pic by joelsalter source
30) Perfectly themed tattoo inked in black on hand.
Pic by magik5tattoo source
32) Realistic skull tattoo.
Pic by kimtattoo_art source
34) Spooky black and grey arm tattoo.
Pic by bonerjamz41 source
37) Thrilling skull tattoo idea.
Pic by chrismeadtattoos source
38) Trick 'r Treat tattoo idea.
Pic by corintattoos source
40) Unique scary ideas for tattoos on the arm.
Pic by mornxster source
41) Unusually designed of scary doll.
Pic by art_inktattoosg source
Have you been wrongly credited or has someone submitted your project/image? Kindly reach out to us and expect a response…
Thank you for reading and I'm hoping you have a wonderful week my friends!