We are already in the mood for summer celebrations, and nail art is a beautiful way of expressing the joy and excitement that we are feeling in our hearts! The gorgeous sunflower theme for nail paint is fascinating, and you should give them a try! We have come up with this fantastic decor work for nails that are so easy for you to emulate and creative to indulge in! If you are waiting for a blast of colors, then these beautiful sunflower nail art designs are what you should try. Then what are you waiting for?
1. The double-toned nail art
We have come up with the double-toned nail art where the sunflowers on the right-hand nails have black buds and outlines while it is white on the other hand. This is an excellent option for you to indulge in.
2. The translucent nails
We have opted for the translucent nails, which are gorgeous! The background is transparent with the sunflower pattern, which is fantastic for you to try out. If you are fond of creativity, this is a great option to experience the mood of summer.
3. Combination of dots and sunflowers
The combination of dots and sunflower is a brilliant option to try out! While on some of the fingers, we have tried polka dots, on the others, we have used the patterns of effortless sunflowers. And the rest of them are painted bright yellow.
4. We tried all the glossy  nails
If you wish to keep it simple and sweet, the glossy nails are an excellent option to try out! We are thrilled by the beauty of the shiny nails that convey your enthusiastic attitude wherever you go!
5. The sunflower mix and match
The interesting sunflower mix and matches are gorgeous and simply outstanding! We are thrilled to try out this wonderful pattern, a great choice to acquire as summer is just around the corner. So what are you waiting for?
6. Sunflower with black
The midnight sunflower theme conveys your bold and gorgeous attitude. We are enthralled by the beauty of the bright black shade with a matte finish, followed by a sunflower design on the top. This is a relatively very unique idea that you should give a try for sure.
7. The transparent yellow sunflower.
The transparent background with the beautiful sunflower pattern is a charismatic option you should try out! Unique and outstanding, we are in love with this design which is beautiful, and you should try it! Easy to make, you hardly have to spend a jiffy.
8. Embellished sunflower look
You can never run out of options, as we are trying out vibrant shades for summer! Especially with the embellished sunflower nail art, you will be the talk of the town! Everywhere you go, be ready to be the center of attraction.
9. Pearl and crystal-studded nails
You can opt for the sunflower patterns with pretty studded nails, which are extremely pretty and a great choice! We find this idea excellent to try out as you have some parties and weekend events lined up. So let's try it out, then?
10. The summer whites
We have contrasted the look of sunflower patterns for nails with intricate designs in white. Such an attractive option as you are looking for brand-new ideas customized to the summer theme. Are you ready to try out something new?
11. The holographic design
We have come up with a holographic design that is simply outstanding! Unique and colorful, we highly recommend this idea which is fabulous and worth your time and effort. Gorgeous and graceful, we are enthralled by the design of the decor for the season.
12. The ombre sunflower look
We have come up with the ombre sunflower look, which is fascinating and so gorgeous to indulge in. The smooth blend of yellow and creme is commendable, and we are quite a fan of this popular pattern right here. Give it a try for sure!
13. Sunflower and diamonds
You can use beads or Pearls to decorate the sunflower nail paint! Here is a dainty and intricate idea of the diamond stones on the sunflower nail paint, which looks so beautiful that you have to try them out at least once on our recommendation.
14. Pointed sunflower nails.
Here is another shape and pattern to portray the sunflower theme for nail art which is ideally suited for the summers. We love this amazing artwork, and will allow you to indulge in the sprightly mood of the season this time.
Sunflower Nail Art Design For Summer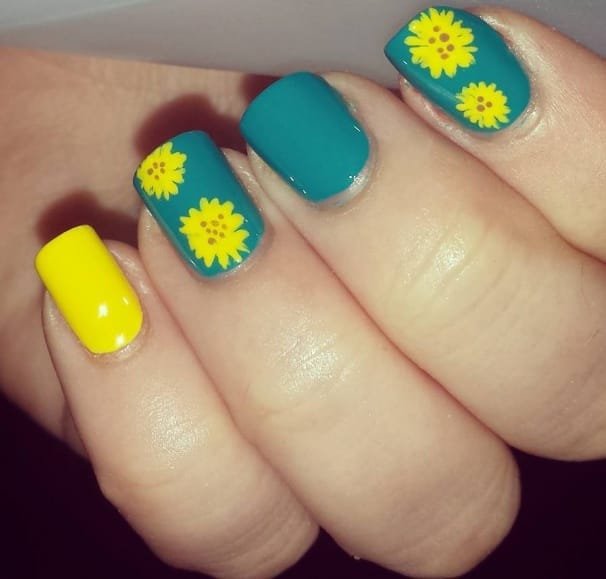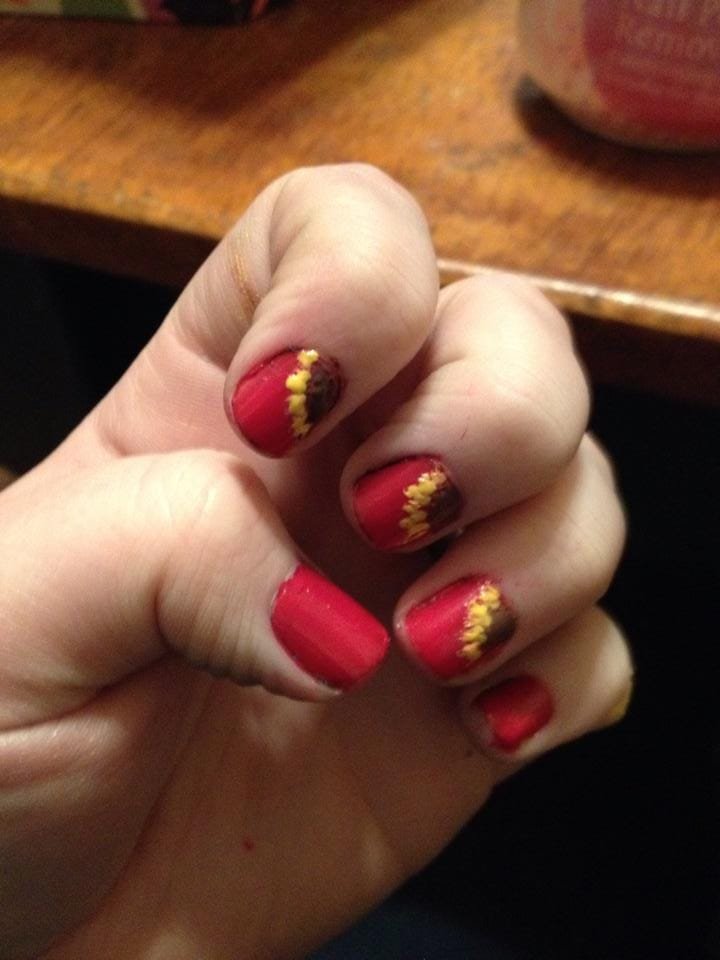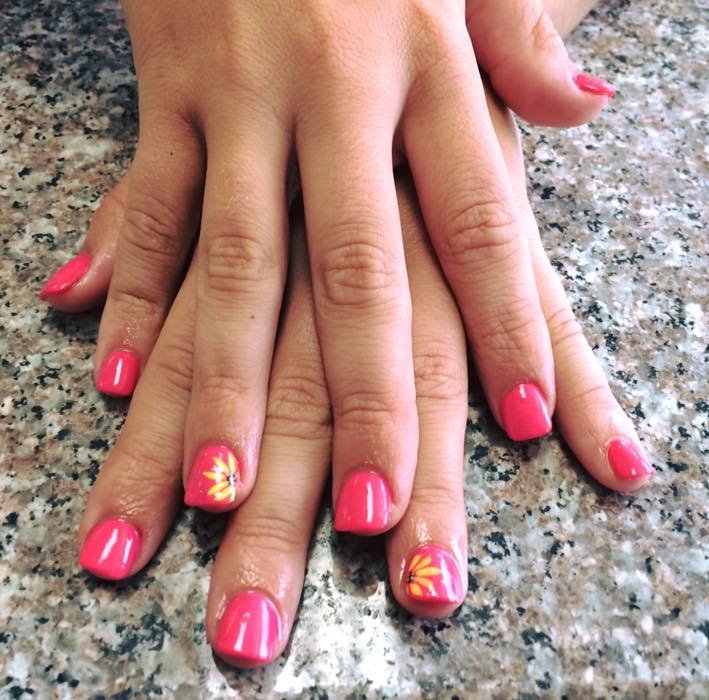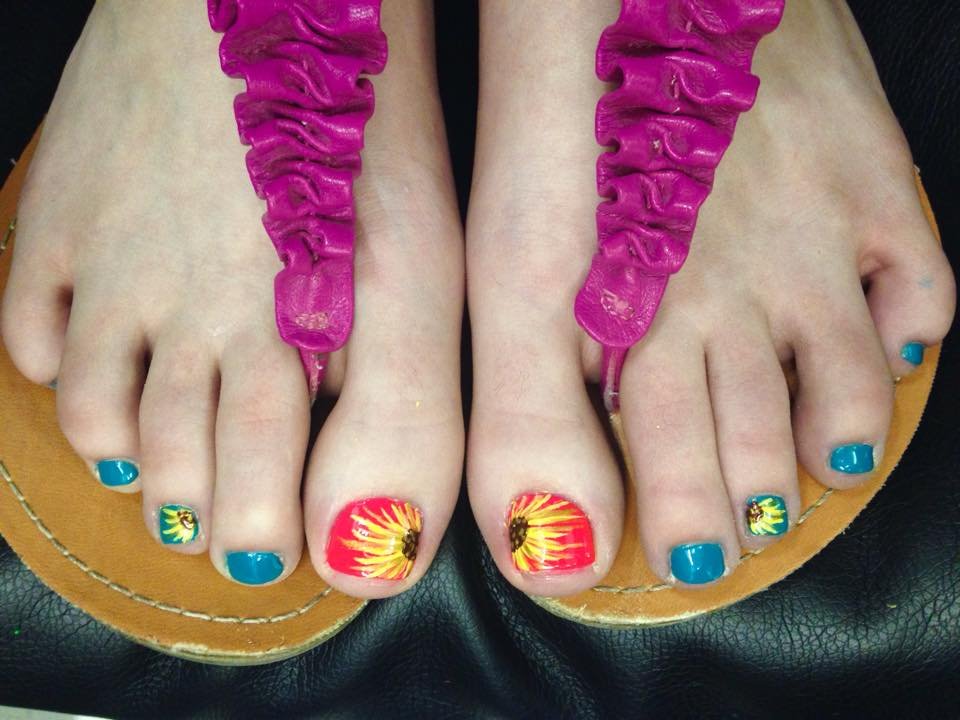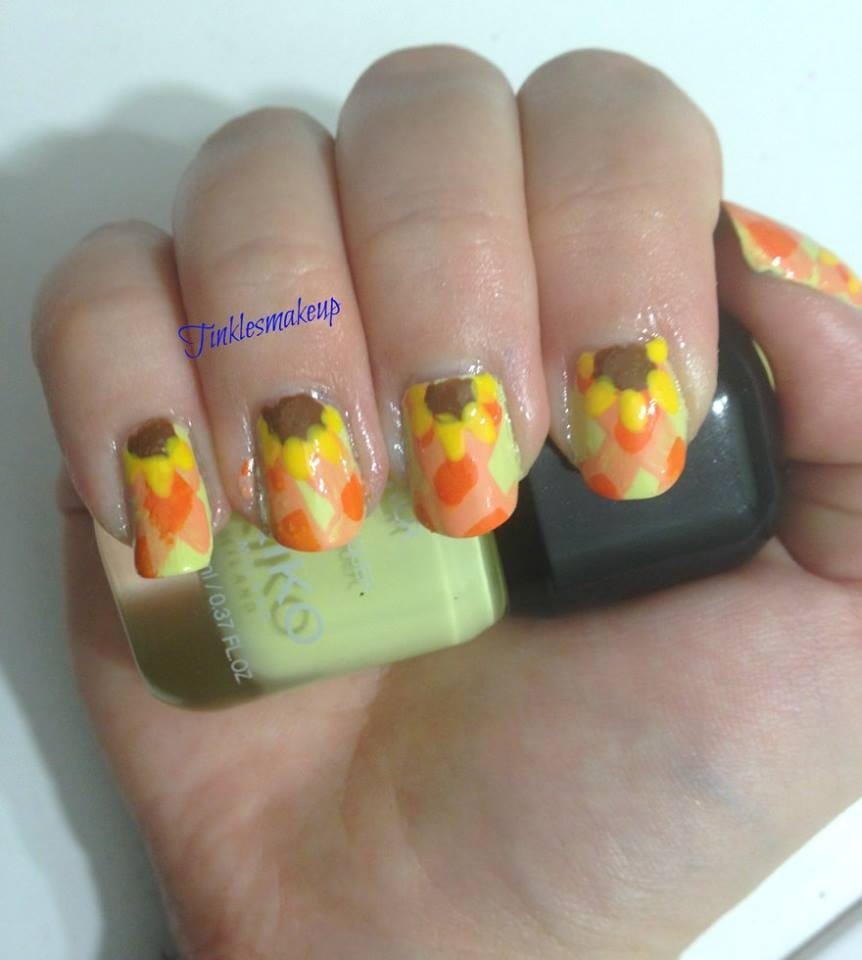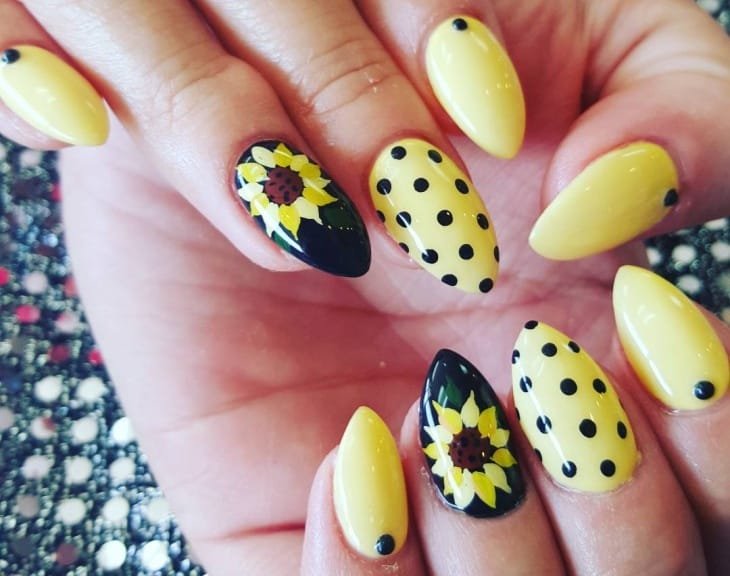 images via www.pinterest.com
Read also: