It is your wedding and the biggest day of your life! This day will never come back, and we will ensure everything is picture-perfect! From hairpins to accessories and outfits, we have planned it all! The beautiful bridal hair accessories that we have got for you will make this day more memorable and gorgeous for you! If you are anxious about your day and whether everything will work out fine, we assure you that we have covered for you. These exclusive bridal hair accessories are just the thing you were missing out on.
1. Get a Rakodi
If it is a traditional South Indian wedding, then the ring-shaped raked is are wedding accessories that are a must-have! They are studded with emerald or Kundan or other precious and semi-precious stones. Perfect for a gorgeous bride to adorn on the day of the wedding!
2. Do not forget hair clips
Hair clips are part of essential hair accessories for the bride! You can go for the colourful and the stone one's for your bun or floral style which you can attach along the length of the plaid till the end of it.
3. We have opted for the bun chains
Most of the brides go for a bun or side buns to suit their outfit! The bun chains are thus a great idea which will escalate your beauty. Gorgeous and graceful, the shimmering and stone studded bun chains are simply jaw dropping beautiful.
4. Make a DIY hair accessory
If you do not want much elaborate decoration for the hair then simply make use of a DIY idea for adorning the bun with a singular earpiece! Nothing elaborate and yet such a charming option that you can explore for your wedding outfit.
5. The beauty of flowers
We have tried the beautiful floral garland and singular flowers that are either pinned to a section of the bun or singular floral petals scattered around the length of the braid. This is a wonderful choice as you wish to give a sense of naturalistic influence to your bridal look.
6. The elegant drop pearl
We have tried to create this minimalistic and yet charming bridal look with the drop pearl golden headpiece which you can pin to your bun. What a fascinating idea which you can contrast with your graceful lehenga for the wedding.
7. Matha patti
This is like a band which is made with white beads and a golden metallic piece at the end which resembles the tiara! Matha patti gives the bride a flawless beauty on her day of reception or wedding. Elegant and certainly an unconventional choice we have to say!
8. Try out the bridal tiara
Yes it is your big day and you must be crowned! The beautiful tiara whether made with flowers or the metallic ones will surely make you look like the princess of your own kingdom. Such an extraordinary idea it is to opt for.
9. Earring with chains
Instead of going for a separate headpiece you can try out these elaborate earrings with a chain that extends from the sides of your earlobe and reach up to the bun behind. We find this to be an enthralling option to accentuate your beauty.
10. Flowers and leaves for hairstyling
The baby breathe hairstyle confers you with an elegant charm! Some brides wish to keep it simple and splendid and this idea is perfect for them to emulate! This is your day and everything from hairpin to shoes should be according to your preferences.
11. Create a dot effect with pearl pins
You will be smitten to know that the pearl pins scattered around your head can be great for creating a charming appearance. Perfect to complement the colour of your wedding gown, you have to give them a try. And they are even easy to put on and remove.
12. Frame the bun with a headpiece
The feather and leafy headpiece is tied around the bun to give it a boundary and a frame at the top. Here is a wonderful idea that you can try out to accentuate your beauty even further.
13. The elaborate floral clips
You can simply try out putting those floral clips on the side buns to style them with beauty and grace. You do not have to be an expert in hairstyling for selecting and using the clips for your wedding event. Shall we try it out then?
14. The enthralling headgear
We have another head gear that you simply cannot miss out on! The beauty of the decorative piece with shimmering stones is fascinating and flawless to adorn. This head gear is perfect as you are styling your hair for the wedding to surprise everyone with your look.
Bridal Hair Accessories Ideas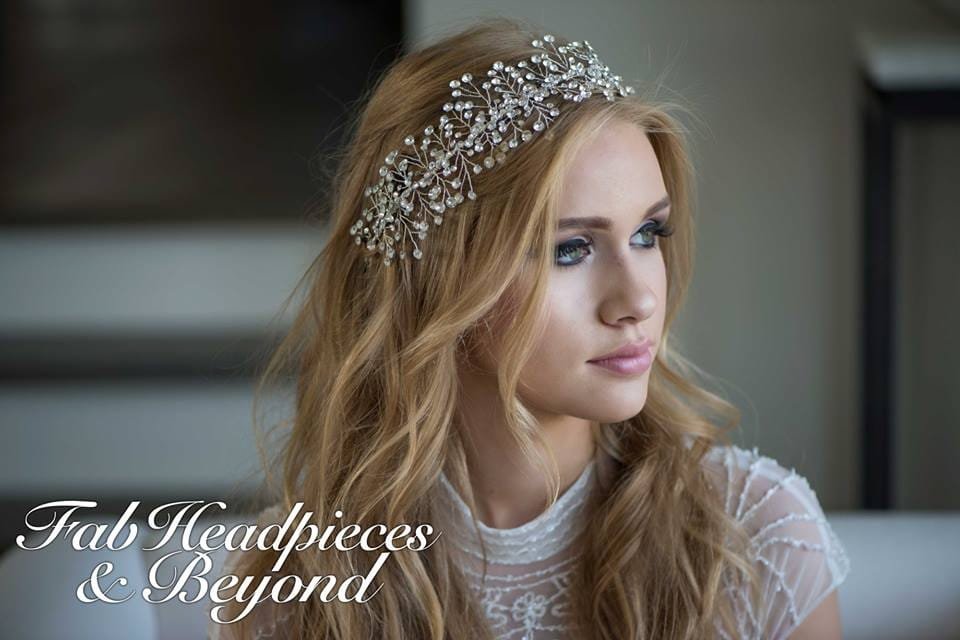 images via www.pinterest.com
Read also: