If you can recollect, Bobby pins existed long ago, and although they got outdated after a while, modern trends are all about bringing back the glory of the past! We would like you to know that, once again, bobby pins are pretty popular in the fashion industry, and style icons are using them as well! If you are someone who wishes to stay up to date with modern ideas in fashion, then here are some of the most fantastic bobby pin hairstyle ideas for styling your hair. Shall we have a look at them?
1. Vertical side pinning
This idea is for short hair! If you have bangs one said and you wish to flaunt them, then you need to apply these bobby pins vertically on the opposite side to maintain a neat one-sided look! Four such pins will be enough.
2. The criss-cross bobby pins
We have opted for the golden ones, and you will be needing at least three of them to create this look! Again you need to pin them from the sides while two runs parallel the other one runs into them for the completion of the style.
3. The cross pins
The pins are well placed in a cross fashion to ensure that you can portray a new pattern with them! All you need are four of them, two for each cross on one side of the head with bangs left loose on the other side for effortless beauty.
4. Triangles made with bobby pins
We have tried making a top knot with the hair in case you have a length bun! The pins are attached at the lower ends to display a triangular fashion. This is a brilliant idea for you to try out indeed.
5. Two buns with geometric pins
Pins are attached in a criss-cross manner to form a grid right before the two buns which are made on either side. This will certainly give you a bold and beautiful look that everyone will find admirable wherever you go.
6. Messy updo with pins
We have opted for the messy updo bun which is kept in its place with the help of these pins which are attached at the end of the bun. This is a wonderful idea which you should give a try for a clean and yet effortless look.
7. Pins for medium length hair
If you opt for a simple ponytail at the end of your neck then the pins can be attached on both sides to keep the ponytail in place. This is indeed a great idea that you should try out for a professional look!
8. Criss-cross to smoothen your hair
If you have curly hair, then you can keep them straight with the criss-cross pattern of pins right in front! The color you can certainly choose them according to your preference and the shade of your outfit. Shall we get it done, then?
9. Braid with pins
You must be wondering whether it is possible to get braids with pins or not! Well, it is quite possible, as we have done for the medium-sized hair and attached the pins in a grid style at the end of the neck. Isn't it a great idea?
10. Simple bun with a pin
We have used pins to make this simple bun which you can try out with formal as well as party outfits. The bun gives you a look of elegance which we are quite fond of, and a wonderful option for you to try out.
11. Flaunt Highlights with pins
We have opted for the highlights and the pins, and the combination was a great success! You can flaunt the best part of your highlights by placing the pins on those sides. An ombre highlight style is preferable for implementing this idea.
12. Pins to keep your hair in place
A simple side parting with pins on the opposite side with the voluminous locks is a great idea that we are sure you will like to explore. This is an idea that is perfect for those with short hair.
13. Criss-cross pins for buns
If you are opting for a side bun, then the idea of the criss-cross pins is amazing and you should give it a try! Amazing and cool, this is a wonderful choice that works well even for formal events. So what are you waiting for?
14. Classic buns with parallel pins
The classic side buns with parallel pins are a wonderful option that you should try out. We are enthralled by the look of elegance, especially if you possess blonde locks. This is a brilliant choice, and you should try it!
Bobby Pins Hairstyle Ideas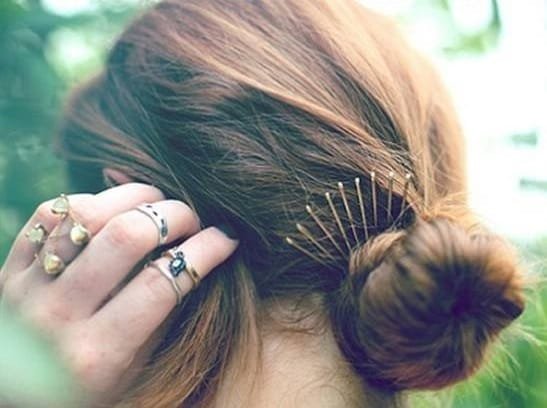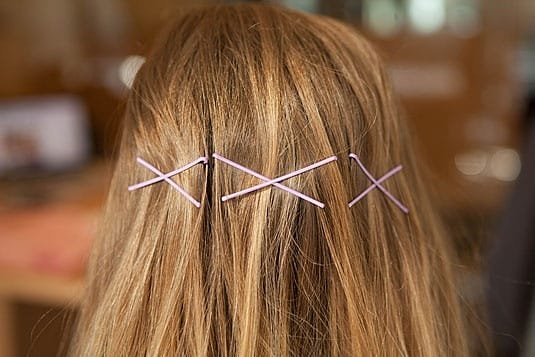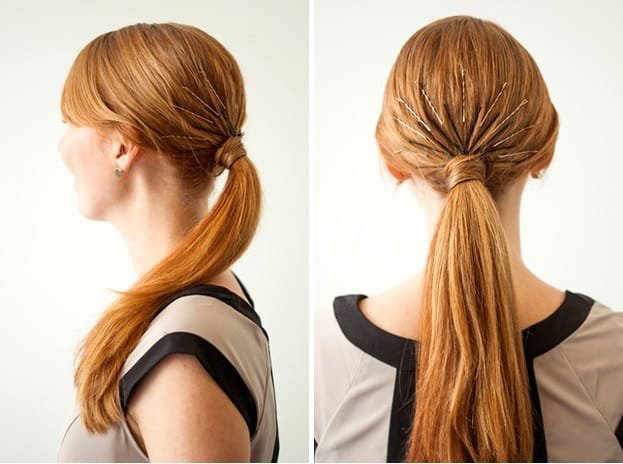 images via www.pinterest.com
Read also: